Dette her er mitt forsøk på å få en oversikt over klassiske
N.W.O.B.H.M.
utgivelser som har funnet veien til CD. De klassiske vinyl utgivelsene er godt dokumentert på de mange
N.W.O.B.H.M.
sidene på internett, mens CD utgivelsene ikke alltid er nevnt.
Kriteriene for å havne på lista er at CD utgivelsene inneholder innspillinger fra
N.W.O.B.H.M.
storhetstid, fortrinnsvis fra perioden 1978-1984. Nyinnspillinger og senere album vil bare unntaksvis bli inkludert i lista. De mest kjente bandene som
Iron Maiden
,
Def Leppard
,
Saxon
m.fl. finner jeg heller ikke nødvendig å ta med.
Her blir det sikkert mange mangler, så det er fritt fram til å bidra med band, album og nettbutikker som er relevante. Legg gjerne med en link som "beviser" utgivelsens eksistens.
Årstall markerer utgivelses år for CD utgaven.
A II Z
Witch Of Berkeley - Live 1980 (2006)
AFTER DARK
Masked By Midnight (1995)
AGONY BAG
Feelmazumba (2001)
ALKATRAZZ
Young Blood
ANGEL WITCH
Angel Witch 25th Anniversary (2005)
ARAGORN
Noonday: The Anthology (2003)
ATOMKRAFT
Atomkraft - Total Metal: The Neat Anthology (2004)
AVENGER
Too Wild To Tame - The Anthology (2002)
BASHFUL ALLEY
It's About Time (2005)
BATTLEAXE
Burn This Town (2005)
Power From the Universe (2005)
Axed - Unreleased, Demos & Rarities (2005)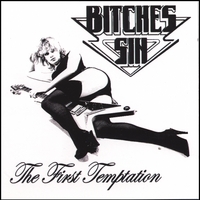 BITCHES SIN
No More Chances (CD singel)
The First Temptation (2004)
Invaders (2004)
Essential Sins (2007)
BLACK ROSE
Bright Lights Burnin' - The Anthology (2005)
BLIND FURY
Out Of Reach (Limited Edition) (2006)
BLITZKRIEG
A Time Of Changes (2003)
BRONZ
Taken By Storm (2001)
CHARIOT
The Warrior (2004)
CHARLIE 'UNGRY
The Chester Road Album (2003)
CHATEAUX
Fight To the Last - The Anthology (2003)
CLOVEN HOOF
Cloven Hoof (2002)
DEALER
Boogie, Booze And Birds (2006)
DEEP SWITCH
Nine Inches Of God (2005)
DEMOLITION
Wrecking Crew: Anthology (2006)
DEMON
Night Of the Demon (2002)
The Unexpected Guest (2002)
The Plague (2002)
The Best Of Volume 1 (2002)
DENIGH
Fire From the Sky (2003)
DIAMOND HEAD
To Heaven From Hell (EP1997)
Lightning To the Nation (The White Album) (2001)
Am I Evil - Anthology (2004)*
*) Det finnes en rekke samlinger med
Diamond Head
tilgjengelig, men denne inneholder hele 29 spor.
DRAGSTER
NWOBHM Revisited, The Very Best Of (1999)
E.F. BAND
*
Their Finest Hours (2003)
*) Egentlig fra Sverige, men er representert på den legendariske samlingen
Metal For Muthas
med låta
Fighting For Rock And Roll
. Broderen til
Denis Dufort
i
Girlschool
,
Dave Dufort
, var bandets første trommis.
ELIXIR
Son Of Odin (2001/2006)
ETHEL THE FROG
Ethel the Frog (1997)
EZY MEAT
Not For Wimps (2002)
TYSONDOG
Painted Heroes (2002)
N.W.O.B.H.M. SAMLINGERMetal For Muthas I
(Iron Maiden, Praying Mantis, Ethel the Frog, Sledgehammer m.fl.)
Roxcalibur
(Black Rose, Battleaxe m.fl.) (1998)
ONLINE-BUTIKKERMusicStack
- Brukt og nytt.
**** Under Konstant Oppdatering, Sist Endret 27.05.2007 ****